Vitalité des activités et rationalité du Lean : deux études de cas
Lean Manufacturing (LM), inspired by the Toyota Production System, has spread throughout the automotive sector in France over the past twenty years – and from there, gradually, to all sectors of the economy. Requests for ergonomic interventions in Lean-type organizations have become more numerous, leading ergonomists to question the paradoxical position they find themselves in this type of work organization and to further their understanding thereof. This is likewise the goal of the present paper, which capitalizes on two studies conducted in different Lean systems in order to discuss LM and its paradoxes. The paper relies on a shared methodology combining two approaches – ergonomic work analysis and case study methodology – in order to understand what is at play within the work situations we encountered. Results suggest the existence of three separate approaches to LM. Each of these approaches is defended by different stakeholders who rarely communicate with one anotherand, indeed, often ignore each other's approaches: at the top administrative level, there is the "strategic" LM, whose core principles are seemingly written in stone; the second level considers LM as it is "implemented" by middle management, who must rationalize the work force, etc., and produce indicators; and, finally there is the LM level that is "managed" day to day by work teams. The main transformation proposed in our research involved organizing meetings, discussions, and debates between these three stakeholders, while keeping the focus on the daily work activity.
El modelo de gestión Lean, basado en el Sistema de Producción de Toyota, se ha venido implementando en Francia en el sector del automóvil desde hace más de veinte años, extendiéndose poco a poco al conjunto de sectores de la economía. Las demandas de intervención en organizaciones que implementan Lean se multiplican conduciendo a los ergónomos a cuestionarse sobre su posicionamiento y a profundizar la reflexión en relación a este tipo de organización del trabajo. El artículo busca precisamente contribuir en este esfuerzo y capitalizar dos experiencias llevadas a cabo en diferentes contextos de Lean de manera a debatir sobre Lean y sus paradojas. Basado en una metodología común articulando dos enfoques - análisis de la actividad laboral y el estudio de caso – el artículo trata de entender lo que está en juego dentro de las situaciones de trabajo. Los resultados muestran la existencia de tres lógicas de Lean, cada una conducida por distintos actores que se comunican poco y a menudo se ignoran: Lean "estratégico" impulsado por la dirección y que parece intocable, Lean " implementado" por los gestores intermedios confrontados tanto a la necesidad de incrementar la racionalización del trabajo como a la producción de indicadores y finalmente el Lean "dirigido" a diario por los equipos de trabajo. La principal vía de transformación propuesta en nuestro estudio consiste en organizar reuniones que permitan a los diferentes protagonistas dialogar y debatir sobre el cotidiano de la actividad de trabajo.
Le Lean, inspiré du système de production Toyota, se déploie en France au sein du secteur automobile depuis une vingtaine d'années et, progressivement, à l'ensemble des secteurs de l'économie. Les demandes d'intervention dans des organisations de type Lean se multiplient etconduisent les ergonomes à s'interroger sur leur positionnement et à approfondir la réflexion vis-à-vis de ce type d'organisation du travail. Cet article cherche précisément à s'inscrire dans cette voie et à capitaliser deux expériences menées dans des contextes Lean variés de façon àdiscuter le Lean et ses paradoxes. Reposant sur une méthodologie commune articulant deux démarches – l'analyse de l'activité de travail et l'étude de cas – l'article cherche à comprendre ce qui se joue au sein même des situations de travail. Les résultats font état de trois logiquesLean, chacune portée par des protagonistes distincts qui communiquent peu, s'ignorent bien souvent : le Lean « stratégique » porté par la direction et qui semble intouchable, le Lean « implémenté » tant bien que mal par le management soumis à des efforts de rationalisation età la production d'indicateurs et le Lean « géré » au quotidien par les équipes de travail. Faire rencontrer, dialoguer et débattre ces protagonistes autour du quotidien de l'activité constitue le principal axe de transformation proposé.
Fichier principal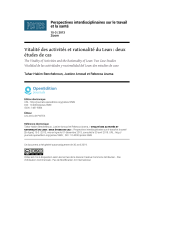 pistes-3589.pdf (615.47 Ko)
Télécharger le fichier
Origin : Publisher files allowed on an open archive
licence : CC BY NC ND - Attribution - NonCommercial - NoDerivatives