Politique agricole et capabilités : quel degré de compatibilité ?
Early awareness by famine in 1948 in India, Amartya Sen has produced many works on issues of social justice and economic ethics. "Capabilities" are of this view a flagship concept of his theory. The economist believes that the difficulties encountered by an individual to access to food that are not related to insufficient amounts of food. These difficulties are closely correlated to the institutional mechanisms that are intended to bring capacity to live better. Taking the food issue seriously, Sen said nothing on the way to reduce the constraints on the conditions of access to food. This article aims to see how the "capabilities" are compatible with the agricultural policy, and what is the degree of compatibility? Such an exercise has limits that it will bring to light.
RÉSUMÉ Très tôt sensibilisé par la famine de 1948 en Inde, Amartya Sen a produit de nombreux travaux sur les questions de justice sociale et d'éthique économique. Les « capabilités » constituent de ce point de vue un concept phare de sa théorie. Cet économiste estime que les difficultés éprouvées par un individu pour accéder à l'alimentation ne sont pas que liées à des quantités insuffisantes de nourriture. Ces difficultés sont intimement corrélées à des mécanismes institutionnels qui ont pour finalité d'apporter des capacités de mieux vivre. Prenant la question alimentaire au sérieux, Sen ne dit mot sur le moyen de réduire les contraintes pesant sur les conditions d'accès à la nourriture. Cet article se propose de voir en quoi les « capabilités » sont compatibles avec la politique agricole, et quel en est le degré de compatibilité? Un tel exercice comporte toutefois des limites qu'il s'agira de mettre au jour. Mots-clés :Capabilités justice, politique agricole. Classification JEL : D63, O13, Q18.
Fichier principal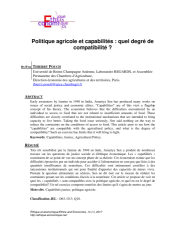 2014v14n1_Pouch.pdf (228.95 Ko)
Télécharger le fichier
Origin : Publisher files allowed on an open archive