Les expositions rétrospectives de poésie au musée (XXe-XXIe siècles). De la "muséalie" à l' "expoésie"
How to exhibit a poetic work primary mode of publication is the exhibition? This is the question that this article hopes to answer, focusing on recent modes of exhibiting poems, which exceed the written medium by means of their visual or acoustic dimension. First, using the example of Mallarmé, I will discuss traditional practices of exhibition , which make of poetry a museum object. Second, I will compare this to the critical practices of exhibiting of contemporary poetry, which question the traditional role of the museum as place, space and poetic medium. The article then proposes a typology of exhibiting devices used in the retrospective exhibitions of Michele Métail, Bernard Heidsieck and Julien Blaine to show how they redeploy practices rooted in fields at once close and distinct: the museum, contemporary art and exhibited poetry, or "expoésie".
Comment exposer une oeuvre poétique dont l'exposition est le principal mode de publication ? C'est à cette question que souhaite répondre l'article qui s'intéresse à la récente muséalisation de poésies ayant en partage le fait d'excéder le médium livresque par leur dimension visuelle ou sonore. Il s'agit tout d'abord de comparer, à l'aide de l'exemple mallarméen, les pratiques expographiques d'une muséalisation classique, qui fait de la poésie une « muséalie », à celles d'une muséalisation critique, issue de l'art contemporain, qui interroge le musée comme lieu, espace et médium du poétique. L'article propose ensuite une typologie des dispositifs expographiques des expositions rétrospectives de Michèle Métail, Bernard Heidsieck et Julien Blaine afin de montrer comment ils réinvestissent des pratiques issues de champs à la fois distincts et voisins : l'institution muséale, l'art contemporain et la poésie exposée ou « expoésie ».
Fichier principal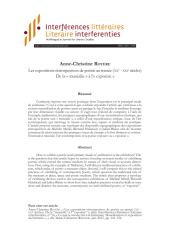 ROYERE_Expositions_rétrospectives_poesie.pdf (1.47 Mo)
Télécharger le fichier
Origin : Publisher files allowed on an open archive