La musicalité, élément de l'expressivité dans le langage
In this reflection on the relationship between language and music, we show that the term « musical language » used in the common language does not correspond to a linguistic reality. Linguists used this term metaphorically, to discuss either the perception of a foreign language, which does not mean that the language itself is musical, or rhythmic and phonetic-prosodic facts in natural language. As these facts are a manifestation of a language's expressiveness, we compared the approach of C. Bally on the expressiveness and that of Jakobson on the poetic function to show their commonalities and their specificity. Our conclusion is that Jakobson's expressive and poetic functions are included in what C. Bally called « expressiveness », and that Jakobson's functional approach is not radically different from Bally's richer linguistic approach.
Dans cette réflexion sur le rapport entre langue et musique, nous montrerons que le qualificatif « langue musicale » utilisé dans le langage courant ne correspond pas à une réalité linguistique en sciences du langage. Les linguistes qui ont utilisé ce qualificatif l'ont fait de manière métaphorique pour discuter soit la perception d'une langue étrangère, qui ne signifie pas que la langue en soi est musicale, soit des faits rythmiques ou phonétiques–prosodiques en langue naturelle. Comme ces derniers sont une manifestation de l'expressivité dans le langage, nous avons comparé l'approche de C. Bally sur l'expressivité et celle de R. Jakobson sur la fonction poétique pour montrer leurs points communs et leur spécificité. Notre conclusion est que les fonctions expressive et poétique de R. Jakobson se retrouvent dans ce que C. Bally avait nommé expressivité et que l'approche fonctionnelle du premier n'est pas radicalement différente de l'approche linguistique, plus riche, du second.
Fichier principal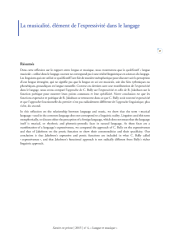 SEP_2015_4_Langue_et_musique_HILGERT.pdf (7.36 Mo)
Télécharger le fichier
Origin : Explicit agreement for this submission