Brouillé, dansant, enchevêtré… mirada e ilusión enunciativa en la ficción cortazariana
Julio Cortázar's writings bring together antagonistic levels of reality and interweave levels of utterances as well as they create an effect of temporal-spatial passages. Narrative instance and diegesis converge to constitute the typical cortazarian metafictional device. The compositional complexity of his writings is the correlate of an experience of literary reading amounting to a textual journey programmed in such a way that the reader's gaze which perceives the text has to skip from one part to another to be able to interpret it. In Cortázar's fictional universe, the gaze is a topic that from a thematic point of view enables the reader to see things in a different way ; and narratively, it presents ever-shifting mutations of the enunciative system (a web of voices) that can even become chameleonic. This article analyses how the gaze is foregrounded in three texts by Cortázar : chapters 7 and 8 of Rayuela (1963), and the short story « Graffiti » published in Queremos tanto a Glenda (1980).
La escritura de Julio Cortázar fusiona planos de realidad antagónicos y cruza niveles enunciativos al tiempo que crea un efecto de pasajes temporo-espaciales. Instancia narrativa y diégesis convergen en la constitución del dispositivo metaficcional de la escritura cortazariana. La complejidad compositiva de su escritura es el correlato de una realización de la lectura literaria experimentada como recorrido textual programado para que la mirada del lector que lee, percibe la integralidad del texto y lo interpreta opere saltos. La mirada en el universo ficcional de Cortázar es un tópico que propone temáticamente otra manera ver las cosas; y narrativamente, una dinámica mutante del sistema enunciativo (tejido de voces) que puede alcanzar rasgos camaleónicos. Se analiza en este artículo la puesta en escena de la mirada en tres textos de Cortázar: los capítulos 7 y 8 de Rayuela (1963), y el cuento «Graffiti» publicado en Queremos tanto a Glenda (1980).
L'écriture de Julio Cortázar fusionne des niveaux antagonistes de réalité et croise des niveaux d'énonciation tout en créant un effet de passages temporo-spatiaux. Instance narrative et diégèse convergent dans la constitution du dispositif métafictionnel de l'écriture cortazarienne. La complexité compositionnelle de son écriture est le corrélat d'une réalisation de la lecture littéraire éprouvée comme un parcours textuel programmé pour que le regard du lecteur qui lit, perçoit le texte dans sa globalité et l'interprète opère des sauts. Le regard est dans l'univers fictionnel de Cortázar un topique qui, thématiquement, propose une autre façon de voir les choses ; et narrativement, une dynamique mutante du système énonciatif (tissage de voix) pouvant aussi devenir caméléonienne. Cet article analyse la mise en scène du regard dans trois textes de Cortázar : les chapitres 7 et 8 de Rayuela (1963), et la nouvelle « Graffiti » publiée dans Queremos tanto a Glenda (1980).
Fichier principal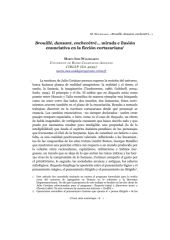 2019_Crisol_8_Waldegaray.pdf (151.63 Ko)
Télécharger le fichier
Origin : Explicit agreement for this submission