Norme et transgression dans les proverbes
It's generally admitted that proverbs point out a general rule, a current standard shared by a linguistic community. This community may be limited or spread, real or virtual, but in any case, the invoked rule appears to be law-like. Then, when a person uses a proverb to describe a particular situation, she indicates that this case is within the scope of the standard, that it verifies the underlying rule (Like father, like son, There is no rose without a thorn…). However, another group of proverbs − certainly less frequent and more rarely studied − indicate exactly the opposite: they underline a transgression with regard to the standard (Don't put the cart before the horse, You can't teach your grandmother to suck eggs…). In these cases, the actions don't take place in the right order, or the aimed person is not the good person for the action. By breaking the general rule, these proverbs (a) recognize its existence, which means for us an indirect way of validating it and (b) evoke at the same time another rule. In this work, these two strategies of validation are explained.
Il est communément admis que les proverbes indiquent une règle générale, une norme en vigueur dans une communauté linguistique. Que cette communauté soit limitée ou étendue, réelle ou virtuelle, la règle évoquée présente invariablement un caractère de vérité générale et le locuteur qui énonce un proverbe dans d'une situation particulière indique que le cas considéré vérifie la règle générale sous-jacente (Tel père, tel fils ; Il n'y a pas de fumée sans feu ; Les bons comptes font les bons amis…). Toutefois, il existe un groupe de proverbes − moins nombreux et moins étudiés que ceux que nous venons d' évoquer − servant justement à indiquer la transgression par rapport à la norme invoquée (Il ne faut pas mettre la charrue avant les bœufs ; Ce n'est pas à un vieux singe que l'on apprend à faire des grimaces…). Dans ces cas, l' ordre habituel des actions n' est pas respecté ou le destinataire d'une action ne convient pas. En brisant la règle habituelle, ces proverbes mettent en place une autre règle mais en même temps, du fait de s' opposer à la première, valident indirectement celle-ci. Notre étude est consacrée à ces deux types de mécanismes de validation de la norme dans les proverbes.
Fichier principal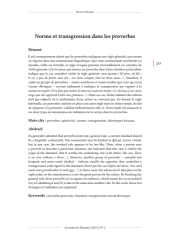 16-palma_253-264.pdf (115.04 Ko)
Télécharger le fichier
Origin : Publisher files allowed on an open archive