Parménide croyait-il dans les signes de l'Être ? Remarques sur l'énonciation et la délocution au fragment 8, vers 1-11
The aim of this paper is to introduce an alternative reading of the lines 1-11 of Parmenides' Fragment 8, focusing on the pragmatics of enunciation, instead of relying exclusively on the logico-analytic linguistic paradigm which, tacitly or not, still dominates contemporary research. The paper begins with a study of the vocabulary of the sign (sêma) in Hesiod, Heraclitus, Herodotus and Homer with the aim of showing that Parmenides' intention was to solve what must be called a "sematological crisis", that one may find strikingly exemplified in the Odyssey. It is then shown how, in order to avoid this crisis, Parmenides gives the word "Being" a self-referential and "delocutive" meaning, but at the cost of a pragmatic contradiction.
L'objet de cet article est de préparer une lecture nouvelle des vers 1-11 du fragment 8 de Parménide, à partir d'arguments non plus exclusivement fondés sur le paradigme linguistique logico-analytique qui domine explicitement ou non les recherches contemporaines, mais tenant compte aussi des résultats issus de la pragmatique de l'énonciation. Dans un premier temps, l'examen du vocabulaire des signes chez Hésiode, Héraclite, Hérodote et Homère permet de mettre en évidence que l'intention de Parménide était d'apporter une solution à ce qu'il convient de considérer comme une crise sématologique, qui trouve son expression la plus forte dans l'Odyssée. Dans un second temps, il est démontré que pour échapper à cette crise Parménide confère au mot être une forme auto-référentielle et nécessairement délocutive de sorte qu'il ne peut éviter une contradiction de type pragmatique.
Fichier principal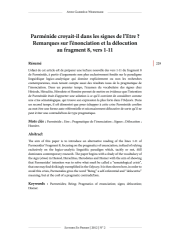 SEP_2012_Wersinger_229-252.pdf (269.33 Ko)
Télécharger le fichier
Origin : Publisher files allowed on an open archive