Gothic and Noir: The Genres of the Irish Contemporary Fiction of "Containment"
This article argues that the trauma of sexual abuse, particularly child abuse, was represented as early as 1965 in John McGahern's The Dark, but was only recognized as a major theme in Irish fiction with the publication of Anne Enright's The Gathering in 2007. Both works, together with Eimear McBride's A Girl is a Half-Formed Thing, display the kind of avant-garde aesthetics that critics generally associate with the representation of trauma. However, other recent Irish novels have represented the trauma of sexual abuse and of institutional containment through tropes and themes proper to two traditional genres, gothic and crime fiction. Such is the case for Patrick McCabe's The Butcher Boy, Sebastian Barry's The Secret Scripture, and John Banville's Benjamin Black novels
John McGahern fut un des premiers romanciers irlandais à représenter le traumatisme de l'abus sexuel, survenu particulièrement dans l'enfance, dès la publication de The Dark en 1965 ; mais que ce ne fut qu'avec The Gathering de Anne Enright (2007) que ce thème fut reconnu comme majeur dans la fiction contemporaine, comme le montre aussi le roman de Eimear McBride A Girl is a Half-Formed Thing. Or la critique a souvent soutenu l'idée que la représentation du traumatisme dans la littérature passe nécessairement par des formes avant-gardistes. Cet article vise à montrer que, contrairement à cette théorie, plusieurs œuvre romanesques évoquant les scandales sexuels ainsi que la maltraitance institutionnelle, dénoncés en Irlande à partir des années 1990, empruntent leurs procédés à des genres traditionnels, comme la littérature gothique et le roman noir. C'est le cas de The Butcher Boy de Patrick McCabe, de The Secret Scripture de Sebastian Barry, ainsi que des romans de Benjamin Black écrits par John Banville.
Fichier principal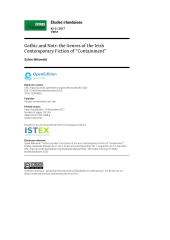 Etudes_irlandaises_2017_42_2_Mikowski.pdf (145.56 Ko)
Télécharger le fichier
Origin : Publisher files allowed on an open archive