"Apocalypses béatifiques" de l'ordre et du chaos dans Les portes de la perception d'Aldous Huxley
Hallucinating under the influence of mescalin, Aldous Huxley had difficulty answering questions about the things he saw. Significantly, queries about time, space and quiddity were particularly problematic. He said such questions were relevant to objects one finds in the "universe" he left behind when he entered the "mescalin experience". Desirous to account for Huxley's apparent "aphasia", the present essay undertakes an "aetiology" of what Huxley referred to as "common language". It postulates that Huxley's difficulties reflect the fact that the language he was using is an apophantical tool of a particular "Beatific vision". Not the "continually changing apocalypse" of "pure becoming" Huxley beheld whilst hallucinating. Rather those "thaumatos phasmata" Plato spoke of in various Dialogues. The ones we see if our perceptions are modulated in such a way that everything we observe appears 'static', 'eidetic' or 'monadic'. In other words, a vision of the world that prevents us apprehending the "luminous bliss" Huxley witnessed in his "mescalin experience". Besides substantiating the claim that common language has been "annexed" or "suborned" by Plato's eidetic phasmata, this essay assesses how well Huxley succeeds in his attempts to translate his Beatific Vision of Chaos into a language designed to make it unspeakable.
Hallucinant sous l'influence de la mescaline, Aldous Huxley avait du mal à répondre aux questions qu'on lui posait à propos des choses qu'il voyait. Ces interrogations, disait-il, étaient pertinentes seulement aux objets que l'on trouve dans l'univers qu'il avait quitté quand il était entré dans « l'expérience mescaline ». Désireux de rendre compte de l'« aphasie » apparente d'Huxley, la présente étude entreprend une « étiologie » de ce que l'auteur anglais a identifié comme « le langage commun ». Elle postule que les difficultés d'Huxley reflètent le fait que le langage qu'il utilisait est un outil « apophantique » d'une certaine « vision béatifique ». Non pas l'apocalypse du « devenir pur » qu'Huxley apercevait lorsqu'il hallucinait, mais plutôt ces « thaumatos phasmata » dont parlait Platon dans divers dialogues. Ceux que nous voyons si nos perceptions sont modulées de telle façon que chaque phénomène que nous observons apparaît « statique », « eidétique » ou « monadique ». En d'autres termes, une vision qui nous empêche d'appréhender la « félicité éblouissante » dont Huxley était témoin dans son « expérience mescaline ». Outre la tentative de justifier la prétention que le langage commun a été « suborné » au profit des phasmata eidétiques de Platon, cette étude évalue à quel point Huxley a réussi dans son essai de traduire sa vision béatifique du chaos dans un langage conçu pour le rendre indicible.
Fichier principal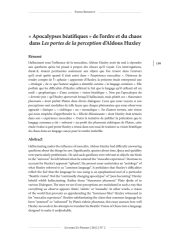 13-bennett_199-214.pdf (136.34 Ko)
Télécharger le fichier
Origin : Explicit agreement for this submission