Comment estimer l'oeuvre de Gabriel Chappuys ? Quelques remarques a propos de la traduction des Dialogues philosophiques de Giraldi Cinzio
Gabriel Chappuys was the most prominent French translator of Italian and Spanish in the years 1575-1610. His work consists of more than 60 titles. The quality of the original works gave its literary importance as cultural mediation: chivalric fiction, courteous behavior literature, tridentine spirituality found in Chappuys' translations an essential contribution to their diffusion in France. On the other hand its own stylistic qualities were on a lower scale. Chappuys' work has to be estimated as a mere editorial activity obedient to business demands. His translation of Giraldi's Dialoghi filosofici, published in 1583-1584 by the Parisian bookseller Abel L'Angelier was aimed to provisionally take place in a new collection devoted to courtesy and moral philosophy. It was soon out of fashion. In 1588, Montaigne's Essays took its place in the stationer's shop; on the same subject, it was the victory of a French original literary work on a less convincing translation from the Italian.
Gabriel Chappuys a été le principal traducteur de l'italien et de l'espagnol des années 1575-1610. Son œuvre, riche de plus de 60 titres, est importante par la qualité des œuvres originales ainsi traduites et le rôle de médiateur culturel qu'elle a joué. Elle a contribué à la diffusion en France des romans de chevalerie, de la littérature courtoise, de la spiritualité tridentine. En revanche, ses qualités proprement littéraires sont médiocres. Faite souvent à la hâte, elle ressortit à une activité éditoriale de nature polygraphique, qui doit être jugée en fonction de ses implications commerciales. La traduction des Dialogues philosophiques de Giraldi, publiée en 1583-1584 par le libraire Abel L'Angelier, était ainsi destinée à prendre place provisoirement dans une collection d'ouvrages de civilité et de philosophie morale. Elle fut remplacée dès 1588 par les Essais de Montaigne, qui marquaient le triomphe d'une œuvre littéraire française originale, sur une traduction peu convaincante de l'italien.
Fichier principal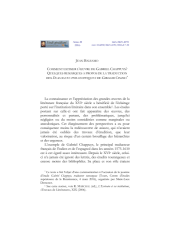 Jean Balsamo.Comment estimer l'oeuvre de Gabriel Chappuys quelques.pdf (228.76 Ko)
Télécharger le fichier
Origin : Publisher files allowed on an open archive