De « pouff » à « pschitt » ! — de la blague et de la caricature politique sous la monarchie de juillet et après...
The «blague» (humbug, send up) was born under Napoleon. This sort of deception, based on bragging or «puffing» became more and more widespread during the XIX th century, notably under the guise of political caricature, an art form that was to reach summits under the reign of King Louis-Philippe. The whole point of the «blague» is the shift of the opposition between truth and falsehood to that between fullness and emptiness. The political «blagueur» is less the hypocrite who canceals a presence than the buffoon who displays an absence. This is epitomized by the famous caricature of Louis-Philippe in the guise of a pear, full of emptiness as it were. Thus replacing the show by a mere appearance, a sham, an image that conveys nothing but itself the caricature, by means of the «blague», sounds the death knell of symbols. It opposes presence to transcendence and current events to history. But at the very moment it creates a vacuum, by means of the caricatural portrait, the «armes parlantes» (parodie coat of arms) it brings back to life the lost symbols, creates a memory of and by the caricature, it erects, facing the History Museum of Versailles, the «Museum of the People» - a living museum of a history which has become contemporary by now. No doubt, between the «puff» of Louis-Philippe's time and President Chirac's notorious «pschitt», the «blague» has taken a deep breath.
Née sous Napoléon Ier, la blague, cette tromperie par hâblerie, ce «puff» ou «pouff», étend son empire sur l'ensemble du XIXe siècle, notamment sur la caricature politique, qui prend son essor sous la Monarchie de Juillet. Tout l'enjeu de la blague réside dans le déplacement du couple faux-vrai vers le couple plein-vide: le blagueur politique est moins l'hypocrite qui cache une présence que le bateleur qui exhibe une absence, si bien incarnée! par la fameuse poire-blague Louis-philipparde pleine de vide. Substituant ainsi au spectacle le simulacre, cette image qui ne renvoie qu'à elle-même, la caricature, par la blague, signe la mort du symbolique: à la transcendance, elle oppose la présence, à l'histoire, l'actualité. Mais au moment où elle fait ainsi le vide, par le portrait-charge, les «armes parlantes», elle ressuscite le symbolique perdu et, créatrice d'une mémoire par et de la caricature, elle dresse, face au Musée historique de Versailles, le «musée du peuple», musée vivant d'une histoire désormais contemporaine. Assurément, du «pouff» de Louis-Philippe au «pschitt» du président, le courant d'air de la blague a passé.
Fichier principal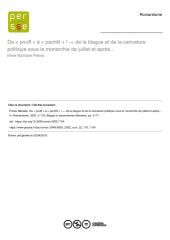 roman_2002_num_32_116_Preiss.pdf (3.42 Mo)
Télécharger le fichier
Origin : Publisher files allowed on an open archive