Dámaso Alonso: entre el hombre y Dios
It is a matter of seeing in this article how the Spanish poet originator of the expression «Generation of 27», Dámaso Alonso, sees God in his collection of poems Hijos de la ira (1944), a polysemic work published during the first Franco post-war. In the poems of this book, Alonso enhances an aesthetic that expresses the doubts of his faith and his unique relationship with a God both Christian and cosmic that, in a recurring, way, he accuses of forgetting him, the poet, and the other men. But without stopping to accuse himself of forgetting Him, in an often oxymoric writing which, in the end, is nothing but an interrogation of an ontological nature on the relationship of man with the unknowable.
Se trata de ver en este artículo de qué manera el poeta español que inventó la expresión de «Generación del 27», Dámaso Alonso, ve a Dios en su poemario Hijos de la ira (1944), obra polisémica publicada en la primera posguerra franquista. En los poemas de este libro, Alonso elabora una estética que restituye las dudas de su fe y su relación tan singular con un Dios a la vez cristiano y cósmico, al que, de manera recurrente, acusa de olvidar a él, el poeta, y a los otros hombres. Pero sin dejar de acusarse a sí mismo de olvdiarLo, en una escritura muchas veces oximórica que, al final, no es más que una interrogación de naturaleza ontológica sobre la relación del hombre con lo incognoscible.
Fichier principal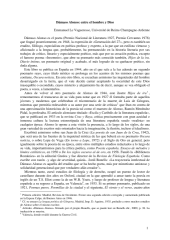 DamasoAlonso_Voces y versos_2021_LE VAGUERESSE.pdf (178.19 Ko)
Télécharger le fichier
Origin : Explicit agreement for this submission