Les recompositions territoriales dans le Maroni : relation mobilité-environnement
Territorial Re-composition in the Maroni : the Mobility-Environment Relationship. -- The socio-spatial dynamics in the hydrographic basin of the Maroni (at the border between French Guyana and Surinam) shed some light on the crossroads of the disciplinary fields of migration and environment. Beyond the ecological dimension to which it implicitly refers, this junction fits well within the wider theme of the relations between territory, society and resources, for which human mobility is a key of analysis. The evolution of spatial organisation of the groups of Marrons settled on the banks of the Maroni since the 18th century is indistinguishable from capacity for mobility. It remains a condition for the exploitation of resources (auriferous in the valley and trade in the estuary), a stake in social resources and territorial appropriation that plays a role in the creation of relational spaces.
Las recomposiciones territoriales en el Maroni: relación movilidad - medio ambiente. -- Las dinámicas socio-espaciales propias a la cuenca hidrográfica del río Maroni (frontera entre la Guyana francesa y el Surinam) ponen en evidencia el cruce entre los campos disciplinares relativos a la migración y al medio ambiente. Más allá de la implícita dimensión ecológica, ¿acaso no se inscribe este "cruce de caminos" en la problemática global de las relaciones entre el territorio, la sociedad y los recursos donde las movilidades humanas constituyen una clave de lectura ? La evolución de la organización espacial de los grupos de Marrones, establecidos desde el siglo XVIII en las riberas del Maroni, no puede ser disociada de la capacidad de movilidad. Esta característica continúa siendo una condición para la explotación de los recursos del valle (auríferos) o del estuario (comerciales). Cargada de recursos sociales y de apropiación territorial, la movilidad participa, en suma, en la formación de espacios de relación.
Les dynamiques socio-spatiales dans le bassin hydrographique du Maroni (frontière entre la Guyane française et le Surinam) éclairent le croisement des champs disciplinaires migration et environnement. Au delà de la dimension écologique auquel il fait implicitement référence, ce carrefour ne s'inscrit-il pas dans la problématique globale des relations entre territoire, société et ressources dans lesquelles les mobilités humaines sont une clef de lecture ? L'évolution de l'organisation spatiale des groupes de Marrons établis sur les rives du Maroni depuis le XVIIIe siècle, est indissociable de la capacité de mobilité. Elle reste une condition d'exploitation des ressources - aurifères dans la vallée et commerciales dans l'estuaire - elle est un enjeu chargé de ressources sociales et d'appropriation territoriale qui participe de la formation d'espaces relationnels.
Fichier principal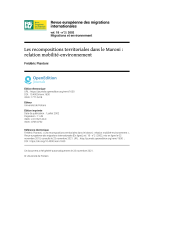 remi-1630.pdf (458.12 Ko)
Télécharger le fichier
Origin : Publisher files allowed on an open archive