Aufklärungsdiskurse in der deutschsprachigen Regionalpresse Zentraleuropas (1800-1920)
L'héritage des Lumières dans la presse de langue allemande en Europe centrale (1800-1920)
Die in diesem Band vereinigten Beiträge befassen sich mit deutschsprachigen Zeitungen Zentraleuropas im "langen 19. Jahrhundert" unter dem Blickwinkel des Fortwirkens von Aufklärungsideen in der Regionalpresse der habsburgischen Monarchie. Hervorragende Sachkenner analysieren den Transfer aufgeklärter Konzepte in der zentraleuropäischen Presse. Zugleich wird die Frage gestellt, ob es eigene Vorstellungen von Aufklärung in diesen Regionen gab. Die hier enthaltenen Aufsätze in deutscher Sprache sind mit französischen und englischen Zusammenfassungen versehen.
The contributions brought together in this volume deal with German-language newspapers in Central Europe in the ""long 19th century"" from the perspective of the continuing influence of Enlightenment ideas in the regional press of the Habsburg Monarchy. Outstanding experts analyse the transfer of Enlightenment concepts in the Central European press. At the same time, the question is raised as to whether these regions had their own ideas of Enlightenment. The essays contained here in German are accompanied by French and English summaries.
Les articles réunis dans le présent volume s'intéressent aux journaux de langue allemande ayant paru en Europe centrale au cours du « long XIXe siècle » et aux survivances de l'esprit des Lumières repérables dans la presse régionale de l'empire des Habsbourg. D'éminents spécialistes analysent le transfert des idées « éclairées » dans la presse centreuropéenne et posent la question de l'existence de modèles propres de l'Aufklärung dans cette partie de l'Europe. Les contributions, rédigées en langue allemande, sont accompagnées de résumés en français et en anglais.
Fichier principal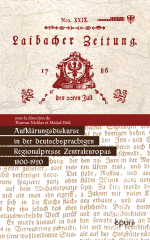 9782374961743_EPURHABS_03.pdf (3.92 Mo)
Télécharger le fichier
Origin : Explicit agreement for this submission
Licence : CC BY NC - Attribution - NonCommercial