"Take Here This Prospective": Specular Reflections of the Female Spectators in Samuel Daniel's Vision of the Twelve Goddesses (1604)
The subject of the female spectators at the beginning of the seventeenth century in England must be envisaged within the particular context of a variety of theatrical situations. The place of the spectators was different according to the venue, from a social as well as from a spatial point of view. This article is devoted to Samuel Daniel's masque, The Vision of the Twelve Goddesses (1604), the first real masque of the Jacobean period with women from the court participating as silent actors. Masques are generally characterized by a great permeability between the stage and the audience. In The Vision of the Twelve Goddesses, Daniel laid the stress on the question of the gaze and curiosity. He seemed to be directing the female spectators' gaze by mediating it through an optical instrument (the "prospective"), which allows them to see better, according to Daniel's interpretation of his masque. This article examines the relation between the female actor and the female spectator. Did Samuel Daniel give a privileged place to female spectators in his masque, on stage and off stage?
La question de la spectatrice dans l'Angleterre du premier XVIIe siècle doit être envisagée dans le cadre d'un contexte particulier, celui d'une diversité de spectacles où la place du public n'est pas la même, aussi bien sur le plan social que spatial. J'aimerais m'intéresser, dans cet article, à un spectacle de cour de Samuel Daniel, The Vision of the Twelve Goddesses (1604). Les masques se caractérisent en général par une grande porosité entre les deux univers de la scène et du public. Dans The Vision of the Twelve Goddesses, qui fut le premier masque faisant intervenir des dames de la cour, l'accent est souvent mis sur la question du regard et de la curiosité. Daniel semble diriger le regard de la spectatrice, le filtrant à travers un appareil d'optique (prospective), qui permet de mieux percevoir les choses et de les envisager de manière proportionnée, selon une perspective bien établie. Ce contexte particulier m'amènera à me poser la question du rapport entre l'actrice et la spectatrice, et à me demander si le masque, spectacle où interviennent des femmes à partir de 1604, est le lieu privilégié de la spectatrice de théâtre.
Fichier principal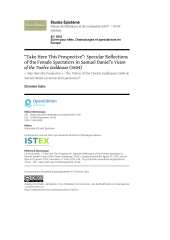 episteme-16136.pdf (252.08 Ko)
Télécharger le fichier
Origin : Publisher files allowed on an open archive
Licence : CC BY NC ND - Attribution - NonCommercial - NoDerivatives