IgM triplet in neonatal diagnosis by immunoblotting and its potential use as a diagnostic marker for congenital toxoplasmosis
Primary infection during pregnancy by the protozoan Toxoplasma gondii can be worrisome because transmission to the fetus may lead to congenital toxoplasmosis (CT). Neonatal diagnosis is usually performed by serological profile comparison of the mother and newborn. As previously reported in 2012 by C. L'Ollivier et al., three IgM bands at 75, 90 and 100 kDa called the "IgM triplet" has caught our attention and seems to be pathognomonic of CT. This retrospective multicenter study involved nine reference laboratories included in the French National Reference Center for Toxoplasmosis network and concerned determining the specificity and sensitivity of this IgM triplet. On this basis, we were able to propose a new read of the comparison of IgG and IgM immunoblot profiles of mother and infant to increase the sensitivity of this diagnostic marker. The effect of the trimester of pregnancy at the time of infection, but also of maternal treatment with pyrimethamine/sulfadiazine/folinic acid on the presence of this IgM triplet in the infant, could be studied. The presence of the triplet appears pathognomonic for the diagnosis of CT, and it increased the sensitivity of the immunoblot assay from 55.04% to 72.48%. As a result, it would be wise to enhance conventional immunoblot reading by adding the presence of the three IgM bands in the infant pattern for neonatal diagnosis of CT.
La primo-infection pendant la grossesse par le protozoaire Toxoplasma gondii peut se révéler préoccupante car la transmission au fœtus peut conduire à une toxoplasmose congénitale (TC). Un diagnostic néonatal est généralement réalisé par comparaison des profils sérologiques de la mère et du nouveau-né. Comme précédemment rapporté en 2012 par C. L'Ollivier et al. , l'association de trois bandes d'IgM à 75, 90, et 100 kDa appelée la « triplette IgM » a retenu notre attention et semble être pathognomonique de la TC. Cette étude rétrospective multicentrique impliquant neuf laboratoires de référence inclus dans le réseau du Centre National de Référence pour la Toxoplasmose a permis de déterminer la spécificité et la sensibilité de cette triplette IgM. Ainsi, cela a permis de proposer une nouvelle lecture de la comparaison des profils d'immunoblot IgG et IgM de la mère et du nourrisson pour augmenter la sensibilité de ce marqueur diagnostique. L'effet du trimestre de la grossesse au moment de l'infection mais aussi du traitement maternel par pyriméthamine/sulfadiazine/acide folinique sur la présence de la triplette IgM chez l'enfant a pu être analysé. La présence de cette triplette semble pathognomonique pour le diagnostic de TC et elle permet d'augmenter la sensibilité du test immunoblot de 55,04 % à 72,48 %. Ainsi, il pourrait être judicieux d'améliorer la lecture conventionnelle de l'immunoblot en ajoutant la présence des trois bandes IgM dans le schéma du nourrisson pour le diagnostic néonatal de TC.
Fichier principal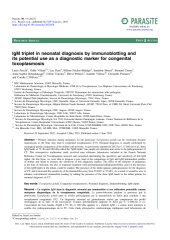 parasite220108.pdf (353.97 Ko)
Télécharger le fichier
Origin : Publisher files allowed on an open archive