Prix réels et prix monétaires
The purpose of this paper is to examine the implications of the monetary character of prices for the representation of economic structures in which prices work. It establishes that neoclassical reduction of monetary prices to nominal prices , phenomenal forms of real prices , leads to precise market structures and market socialization conceptions. Reciprocally on the basis of the studies conducted by Keynes and Marx, it shows how the development market structures (immediate exchange, market exchange and wealth economy, enrichment economy, overdraft economy) generates monetary prices with specific properties.
Cet article étudie les implications des conceptions du caractère monétaire des prix quant à la représentation des structures économiques dans lesquelles ces prix fonctionnent. Il montre que la réduction néo-classique des prix monétaires à des prix nominaux, formes phénoménales de prix réels, induit une conception déterminée des structures de marché et de la socialisation marchande. Inversement, en s'appuyant sur les apports de Marx et de Keynes, il précise comment le développement de structures marchandes (échange immédiat, échange marchand et économie de richesse, économie d'enrichissement, économie d'endettement) engendre des prix monétaires à propriétés déterminées.
Fichier principal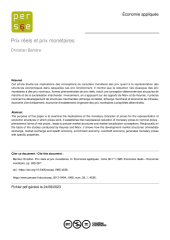 ecoap_1985_num_38_1_4036.pdf (8.28 Mo)
Télécharger le fichier
Origin : Publisher files allowed on an open archive
Licence : CC BY NC SA - Attribution - NonCommercial - ShareAlike