Insignifiance de la réussite ou réussite de l'insignifiance : l'exemple de certains projets européens pour les langues
[Insignificance of success or success of insignificance: the example of some European projects for languages] Lingua projects, like all European projects, are evaluated on internal criteria: whether they are successful or not is determined by conformity to specifications carefully spelled out in the project. But are such criteria enough? It has been noted that some Lingua projects are sliding into triviality. It is clear that internal evaluation alone cannot fix the problem: a trivial project may well perfectly meet the evaluation criteria and so be deemed a success. Projects have to be considered from a more general point of view. They necessarily imply goals and policies, and these goals and policies can be explicit or implicit, well or ill-conceived, ethically correct or not, bona fide or dishonest, and so on. Social and economic impact of language policies should also be taken into account, and this means that evaluation is not as straightforward as it seems.
Les projets Lingua, comme tous les projets européens, sont évalués à l'aide de critères internes : leur réussite est déterminée par leur conformité avec certaines attentes clairement spécifiées dans le cadre du projet. Mais ces critères sont-ils suffisants ? On constate une dérive de certains projets Lingua vers l'insignifiance. Il est clair que les évaluations internes ne permettront pas de redresser la barre, puisqu'un projet insignifiant peut parfaitement remplir les critères d'évaluation fixés au départ, et donc être réputé réussi. Il faut alors prendre les choses en amont et s'interroger sur la notion même de projet, qui implique un but et une politique, qui peuvent être explicites ou implicites, bien ou mal conçus, éthiquement corrects ou non, de bonne ou de mauvaise foi, et ainsi de suite. Il faut aussi s'interroger sur l'impact social et économique des politiques linguistiques, dont l'évaluation est ainsi plus complexe qu'il n'y paraît.
Fichier principal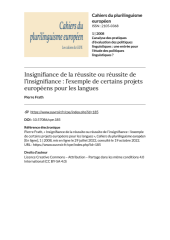 cpe-185_2008_FRATH.pdf (279.03 Ko)
Télécharger le fichier
Origin : Explicit agreement for this submission
Licence : CC BY SA - Attribution - ShareAlike