Poésie, "matière d'images" : les Gigantextes de Michèle Métail
Michèle Métail started writing poetry in the early 1970s and was well-received by the OuliPo group and the Sound Poetry movement. Her work is shaped by self-imposed writing constraints as the artist paid close attention to the graphic and acoustic materiality of language. The poems are both visual and musical, Michèle Métail experimenting with the various possibilities offered by the poetic medium. It is particularly the case with « a series of works of larger dimensions » entitled Gigantextes. Those texts are literally made of images, as they promote the visual quality of writing and use the very materiality of the medium to convey meaning; those creations are thus presented in an exhibition, and not merely in a publication. They are definitely not limited to the traditional space of text and book and rely on media, semiotic, institutional transfers this paper offers to analyse.
Née au début des années 1970, la poésie de Michèle Métail est accueillie aussi bien à l'OuLiPo que dans les milieux de la poésie sonore. Pratiquant l'écriture à contraintes, mais attentive à la matérialité graphique et acoustique du langage, cette poésie à la fois sonore et visuelle aime à expérimenter les potentialités poétiques des supports qu'elle investit. C'est notamment d'une le cas d'une « série d'œuvres de grandes dimensions » : les Gigantextes. Ils sont intrinsèquement « matière d'images » en ce qu'ils promeuvent la visualité de l'écrit, font de leur matérialité médiatique un élément de la signification du poème et choisissent l'exposition comme mode de publication. Ainsi, en déplaçant et en agrandissant l'espace traditionnellement et culturellement dévolu au texte, à savoir le livre, ils opèrent des transferts médiatiques, sémiotiques et institutionnels de l'écrit que l'article se propose d'analyser.
Fichier principal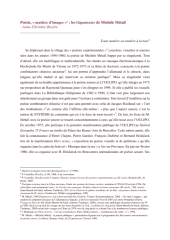 Poésie « matière d'images » .pdf (645.29 Ko)
Télécharger le fichier
Origin : Files produced by the author(s)