Le nom identité dans son sens de relation symétrique
This article shows that the noun "identité" (identity), in its basic meaning, with respect to the adjective "identique" (identical) and applicable to objects, does not designate a quality or a characteristic, but a symmetrical relation between two entities. This means that if there is an identity between x and y, the relation is symmetrical: if x is identical to y, then y is identical to x. The logical structure of the noun "identité" is coherent with the syntactical structures where it appears, being generally used with relational prepositions like "avec" (with) or "entre" (between). This paper also addresses the problem (philosophically difficult) of partial identity – identity of z between x and y. The study of identity exposes a new subclass in the classification of abstract nouns, including nouns like équivalence, similitude, ressemblance, dissemblance, différence, altérité, which have designating a symmetrical relation as a common semantic characteristic.
Cet article montre que le nom identité, dans son sens initial, en rapport avec l'adjectif identique et applicable aux objets, ne désigne pas une qualité ou une caractéristique, mais une relation symétrique entre deux entités. Cette relation se comprend dans le sens où, s'il y a identité entre x et y, cela se vérifie symétriquement : si x est identique à y, alors y est identique à x. La structure logique du nom identité est en accord avec les constructions syntaxiques dans lesquelles il figure, comportant généralement des prépositions relationnelles comme avec ou entre. Cette étude aborde aussi le problème (difficile, en philosophie) de l'identité partielle qui prend linguistiquement la forme identité de z entre x et y. L'étude du nom identité met globalement en lumière une sous-classe nouvelle dans la classification des noms abstraits, comprenant aussi des noms tels que équivalence, similitude, ressemblance, dissemblance, différence, altérité, dont la caractéristique sémantique commune est de désigner des relations symétriques entre deux entités.
Fichier principal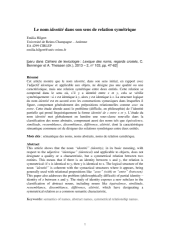 2013_Hilgert_Identite.pdf (358.56 Ko)
Télécharger le fichier
Origin : Files produced by the author(s)