Sujet énonciateur entre deixis et catégorisation. Le cas de nous autres / vous autres
The aim of this paper is to present the properties and uses of the French pronouns nous autres / vous autres in standard French. They can be analysed from a semantic point of view (identity and otherness), a discursive point of view (deixis and categorization) and a pragmatic point of view (affirmation of identity, emphasized differences and non-typifying genericity).
La question du sujet énonciateur et de la possibilité d'envisager celui-ci comme un élément d'une collectivité trouve une forme d'expression intéressante dans les pronoms nous autres / vous autres du français. Ces constructions interpellent par leur ressemblance formelle avec les pronoms nosotros / vosotros de l'espagnol 1 , tout en ayant un fonctionnement différent du leur. Rappelons seulement qu'elles sont entrées dans l'usage en français après la grammaticalisation des pronoms espagnols 2 et qu'elles s'utilisent différemment, en tant que formes disjointes et à des fins contrastives en français de France ou en tant que simples déictiques conjoints au verbe, dépourvus de sens oppositif, en français du 1 Cet article est le fruit d'une réflexion commune que nous avons menée avec Silvia Palma, dont l'article dédié aux pronoms nosotros / vosotros de l'espagnol se trouve dans ce même ouvrage. 2 Le Dictionnaire historique de la langue française (2006), informe que, par rapport aux emplois de nous comme pronom personnel qui sont fixés avant la fin du XII e siècle, l'association à autres, en emploi renforcé marquant une forte distinction, ne date que du XVI e siècle.
Fichier principal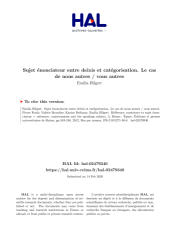 ResPerNomen3_2012_HILGERT (1).pdf (560.29 Ko)
Télécharger le fichier
Origin : Files produced by the author(s)