Sujet énonciateur entre deixis et catégorisation : le cas de 'nosotros / vosotros' (esp.)
The aim of this study is to describe how personal pronouns of first and second person are used in Spanish. Both 'nosotros' and 'vosotros' (as well as French pairs 'nous/ vous' and 'nous autres/ vous autres') can be determined either by the situational context (who is talking to whom) or through given information about the extension of the group concerned by 'nosotros' or 'vosotros'. In this second case, the group is necessarily related to a complementary group with other features.
Parmi les pronoms personnels dont le référent est identifié à partir de la situation de discours où ils sont employés (je, tu, nous, vous), nous traiterons ici des formes de première et deuxième personne du pluriel. Nous analyserons, à côté des cas à valeur purement déictique, les cas où ces pronoms déterminent une classe, à laquelle le locuteur déclare appartenir (dans le cas de nous) ou dont il est exclu (dans le cas de vous). Cette utilisation « catégorielle » de nous et vous est généralement accompagnée de certains traits syntaxiques, notamment la présence dans l'énoncé d'une apposition et/ou la répétition du pronom. Nous analyserons dans cette étude les pronoms personnels de première et deuxième personne du pluriel en espagnol − nosotros et vosotros − et étudierons leur fonctionnement et leur valeur par rapport aux formes nous / vous et nous autres / vous autres du français.
Fichier principal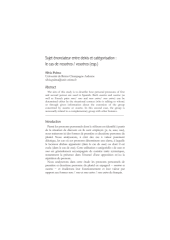 RPN3_2012_PALMA_181-192.pdf (369.79 Ko)
Télécharger le fichier
Origin : Explicit agreement for this submission