La voix d'une « savante » : Diotime de Mantinée dans le Banquet de Platon (201d-212b)
The aim of this paper is to reconsider Diotima's speech, in Plato's Symposium, from the point of view of the question of enunciation applied to a woman. We start studying the particularly complex device of enunciation, in the light of the theory of èthos exposed in Republic (book 3). One notices that, in direct discourse, Socrates, a 53-year-old man, becomes the spokesman of a mature woman and of a young man having some similarities with Agathon, the well-known effeminate young composer. As being the ultimate relay in the device of enunciation, Apollodorus shows himself capable of imitating all kind of voices, including the most opposite. We may notice too, through many indices, that Plato did not want us to believe in Diotima's reality. The complementary analysis of the content of the speech makes us understand that the male control of delivery coincides with the withdrawal of ejaculation and consists in giving birth to logoi. The analysis of the myth of Eros, which is confronted to Hesiod's myth, suggests that the paederastic relation turns into a relation between a midwife and a mother who delivers « beautiful discourses ». The paper ends by drawing the consequences of the comparison of the function of the midwife in the Symposium and in the Theaetetus.
L'objet de l'article est de réexaminer le discours de Diotime, dans le Banquet de Platon, sous l'angle de la question de l'énonciation appliquée à une femme. On commence par étudier les effets d'un dispositif d'énonciation complexe, à la lumière de la théorie de l'ethos exposée au livre 3 de la République pour montrer que, au discours direct, Socrate, âgé de 53 ans, se fait le porte-parole d'une femme mûre et d'un jeune homme qui a des points communs avec Agathon, le célèbre compositeur efféminé ; Apollodore, qui est dans le Banquet le relais ultime de l'énonciation, est un personnage qui possède toutes les facultés requises pour mimer les voix les plus disparates. De multiples indices permettent d'affirmer que Platon n'a pas voulu que nous croyions à la réalité de Diotime. Conjoignant analyse de l'énonciation et analyse du contenu du discours, nous démontrons que la maîtrise masculine de l'accouchement a pour contrepartie la disparition de l'éjaculation et correspond à l'accouchement de logoi. L'analyse du mythe de la naissance d'Éros, confronté au mythe hésiodique, montre que la relation pédérastique se transforme en relation entre une sage-femme et une mère qui accouche de « beaux discours ». L'article s'achève en tirant les conséquences de la comparaison de la fonction de la sage-femme dans le Banquet et dans le Théétète.
Fichier principal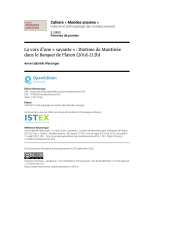 mondesanciens-816_Wersinger-Taylor.pdf (284.9 Ko)
Télécharger le fichier
Origin : Publisher files allowed on an open archive