La mort de l'affect dans The Atrocity Exhibition (1970) et Crash (1973) de James G. Ballard, clinicien de son époque
The purpose of this article is to study what Ballard calls « the death of affect », a phenomenon which he depicts in an urban universe peopled with characters who have lost the faculty to have feelings and express emotions. According to him, this phenomenon is caused by the times he writes on, the sixties, which he considers as characterized by violence, the explosion of the media landscape and the development of the technological landscape. Two traumas symbolize this violence: the assassination of Kennedy and the war in Vietnam. But by dint of showing and commenting such events up to saturation point, the media impairs the public's capacity to be moved. The media also contributes to give too much value to appearance and posturing. Whether in politics or entertainment, the emotions of public figures are simulated, those of the audience are conditioned. As for the consumer society, it reduces man to a body-as-object, or even a subject to experiment on. All around, a technological landscape made of steel and concrete encourages this change of behaviour, so much so that man identifies himself to the machine, this new sexual partner, this new expression of his pathologies. Adopting a cold dispassionate style, multiplying lists and inventories, Ballard is at one with his subject, which he dissects as a cadaver so as to exorcize his own ghosts.
Le but de cet article est d'étudier ce que Ballard appelle « la mort de l'affect », phénomène qu'il met en scène dans un univers urbain peuplé de personnages qui ont perdu la faculté d'éprouver des sentiments et d'exprimer des émotions. Selon lui, ce phénomène est causé par l'époque sur laquelle il écrit, les années soixante, qu'il voit caractérisées par la violence, l'explosion du paysage médiatique et le développement du paysage technologique. Deux traumas symbolisent cette violence : l'assassinat de Kennedy et la guerre du Vietnam. Mais à force de montrer et commenter de tels événements jusqu'à saturation, les médias émoussent la faculté du public à s'émouvoir. Ces medias contribuent aussi à valoriser à l'excès l'apparence, la posture. Que l'on soit dans la politique ou le spectacle, les émotions des figures publiques sont simulées, celles des auditoires sont conditionnées. Quant à la société de consommation, elle réduit l'humain à un corps-objet, voire à un sujet d'expérience. Tout autour, un paysage technologique de béton et d'acier encourage cette modification de comportement, à tel point que l'homme s'identifie à la machine, nouveau compagnon de sa sexualité, nouvelle expression de ses pathologies. En adoptant un style froid et dépassionné, en multipliant les listes et les inventaires, Ballard est à l'unisson de son sujet, qu'il dissèque comme un cadavre pour mieux exorciser ses propres fantômes.
Fichier principal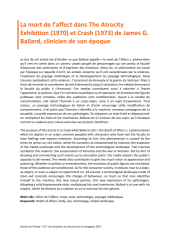 13.-la-mort-de-laffect.pdf (233.56 Ko)
Télécharger le fichier
Origin : Publisher files allowed on an open archive