« Quelle âme ? » : l'expression des émotions dans les discours sur les arts de la marionnette
Didactic and above all technical texts are supposed to be free of any expression of emotion even when they deal with artistic activities such as the art of puppetry. It seems however that a theoretical approach that accounts for qualitative inequalities together with a comparative approach of texts belonging to different discourses lead on the contrary to ruling out the existence of the principle of isonomy in any texts. This study isolates the semantic forms linked to the theme of the imitation of the human figure when it is endowed with strong intensity. Quite remarkably since "emotion" etymologically means "to set in motion", these manifestations of emotion occur in passages dealing with the technical means used to set the puppets or marionettes in motion. But the cause of this movement as a semantic role in the narrative is systematically marginalized or suppressed, which amounts to representing these puppets as beings in their own right.
Les textes didactiques et surtout techniques sont censés être dénués de toute expression d'émotions même lorsqu'ils ont pour thème des pratiques artistiques telles que les arts de la marionnette. Une approche théorique non logiciste et une étude comparative de textes relevant de discours différents permettent au contraire de remettre en question la notion même de degré zéro de l'expressivité. Plus particulièrement, cette étude s'efforce de mettre en évidence les formes sémantiques associées à l'expression du thème du simulacre de la figure humaine quand celui-ci est chargé d'une forte intensité qualitative. De manière remarquable, puisque « émouvoir » signifie étymologiquement « mettre en mouvement », ces manifestations linguistiques de l'émotion sont liées au thème de la mise en mouvement des marionnettes. Toutes ont en commun des schémas actantiels lacunaires dans lesquels le principe causateur du mouvement est marginalisé ou supprimé aboutissant ainsi à présenter les pantins comme des êtres à part entière.
Fichier principal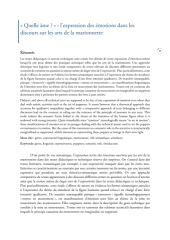 SEP_2017_7_39-52_CANON-ROGER.pdf (157.54 Ko)
Télécharger le fichier
Origin : Explicit agreement for this submission