L'EMILE/CLIL à l'Université : le doute est-il encore permis ?
This article is addressed to those who doubt the benefits of CLIL for SLA in higher education. After cataloguing the factors that put language teaching under pressure to adopt methods which make it "competitive", this paper stresses the importance of living up to what language learners expect from SLA didactics: equipping them with the linguistic and communicative tools that allow them to be "operational" for their post-university careers. After that it looks at the positive "multiplier effects" entailed by its adoption, focusing in particular on how it facilitates the development of "Higher Order Thinking Skills". Also considered are the negative consequences entailed by not using CLIL, for example how this makes our language teaching services far less "attractive" than those offered by Education Service Providers in the private sector. The paper concludes by rebutting the main arguments posed to the adoption of CLIL, for example the idea that it is the didactic corollary of an ultraliberal ideology and the assumption that it neglects the critically important sociocultural dimension of SLA.
Cet article est adressé à ceux qui doutent des avantages de l'EMILE pour la promotion du plurilinguisme dans l'enseignement supérieur. Il commence par cataloguer les facteurs qui font pression pour que l'enseignement des langues adopte des méthodes qui le rendent « compétitif », et enchaîne en soulignant l'importance de répondre aux attentes de nos apprenants en visant à les « armer des connaissances et compétences essentielles à l'insertion professionnelle ». Après cela, il passe en revue les « effets multiplicateurs positifs » entraînés par son adoption, en particulier le fait que l'EMILE favorise le développement du « raisonnement d'ordre supérieur ». Sont également considérées les conséquences négatives induites par le choix de ne pas recourir à l'approche EMILE, par exemple, comment cela rend notre offre formative moins « attrayante » que celles de nos concurrents extra-universitaires. Pour conclure, cet article récuse certains arguments avancés par les opposants de l'EMILE, par exemple l'idée qu'il serait le corollaire didactique d'une idéologie ultralibérale ainsi que l'hypothèse qu'une telle approche négligerait la dimension socioculturelle de l'usage de la L2 ou Ln.
Fichier principal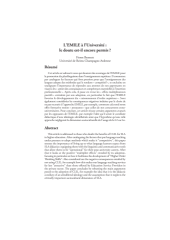 EPURE_2017_EMILE-CLIL_BENNETT_11-30.pdf (200.02 Ko)
Télécharger le fichier
Origin : Explicit agreement for this submission