De la lecture littéraire à la vie par la parole
This article studies the relationship between literature and life from the perspective of literary reading, a concept that emerged at the end of the last century and takes into account the activity of the reader in the process of aesthetic appreciation of literary art. From literary reading to life, mediation is done through speech, a verbal act common to the writer and his readers, and whose interface is the body and rooting in the material and social world - life. Here the theory of literary reading finds a corollary which highlights the intimate link between writing and reading: to the now classic model of playing, which establishes a dialectical link between affect and intellectual activity, speech adds the notion of verbal performance and the implication, on both sides of the symbolic chain, of a human subject. The verbal and vital interpersonal exchange through literature draws its specific fecundity from its deferred character.
Cet article étudie le rapport entre la littérature et la vie sous l'angle de la lecture littéraire, notion qui surgit à la fin du siècle dernier et prend en compte l'activité du lecteur dans le processus d'appréciation esthétique de l'art littéraire. De la lecture littéraire à la vie, la médiation s'effectue par la parole, acte verbal commun à l'écrivain et à ses lecteurs, et dont l'interface est le corps et l'enracinement dans le monde matériel et social – la vie. La théorie de la lecture littéraire trouve ici un corollaire soulignant le lien intime entre écrire et lire : au modèle désormais classique du jeu, qui dialectise les affects et l'activité intellectuelle, la parole ajoute la notion de performance verbale et l'implication, de part et d'autre de la chaîne symbolique, d'un sujet humain. L'échange verbal et vital par la littérature tire de son caractère différé sa fécondité particulière.
Fichier principal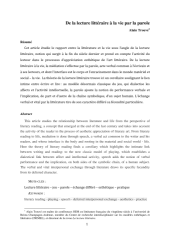 2017_Sujet_dans_la_cite_De la lecture littéraire à la vie par la parole.pdf (465.41 Ko)
Télécharger le fichier
Origin : Files produced by the author(s)