What about the CSR structuring process at university? The French university example.
Cómo estructurar los procesos de RSC en la universidad? El ejemplo de las universidades francesas.
Quelle structuration de la démarche de Développement Durable-Responsabilité Sociale (DD-RS) à l'université ? L'exemple des universités françaises
The article is based on a survey on the structuring of the sustainable development and social responsibility (SD-SR) approach in French universities. It draws on the structuration theory and Neo-Institutional Theory to construct a conceptual framework. This framework is confronted with institutional practice and leads to a typology based on the role of political involvement, the culture of management and isomorphisms. The discussion around this typology, based on an MCA showing the existence of homogenous groups of universities in terms of their structuring of a SD-SR approach, makes it possible to refine the role of each of the factors in the conceptual model.
El artículo está basado en una investigación sobre la estructuración del desarrollo sostenible y la responsabilidad social (DS-RS) en las universidades francesas. Se apoya en la teoría de la estructuración y la Teoría Neo-Institucional para construir el marco conceptual. Este último, esta confrontado con la práctica de las instituciones y desemboca en una tipología fundada sobre el rol de la implicación política, de la cultura de orientación y de isomorfismos. La discusión alrededor de esta tipología, a partir de una ACM mostrando la existencia de grupos homogéneos de universidades en cuanto a su estructuración en el cuadro de DS-RS, permite de afinar el rol de cada uno de los factores del modelo conceptual.
L'article est basé sur une enquête portant sur la structuration de la démarche de développement durable et responsabilité sociale (DD-RS) dans les universités françaises. Il s'appuie sur la théorie de la structuration et la Théorie Néo-Institutionnelle pour construire un cadre conceptuel à la structuration de cette mission. Ce dernier est confronté à la pratique des établissements et débouche sur une typologie fondée sur le rôle de l'implication politique, de la culture du pilotage et des isomorphismes. La discussion autour de cette typologie, à partir d'une ACM montrant l'existence de groupes homogènes d'universités quant à leur structuration d'une démarche DD-RS, permet d'affiner le rôle de chacun des facteurs du modèle conceptuel.
Fichier principal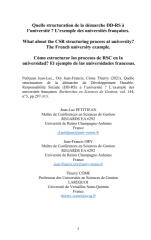 article Recherches en sciences de gestion HAL.pdf (602.15 Ko)
Télécharger le fichier
Origin : Files produced by the author(s)