Grandes et petites mythologies. I - Monts et abîmes : des dieux et des hommes
If the "great" mythology, the Olympian one in particular, has always been studied by scholars, the same cannot be said of the "small" mythology (a name attributed to the Grimm brothers): readily relegated to the nursery and the sphere of children, an almost universal consensus considers it to be a "sub-genre", even though it is the repository of a mythical and poetic memory that is just as precious as that of its classical "sister". The oral traditions, conveyed in particular by the tales, represent an inexhaustible breeding ground of patterns which very often join, by the structure, the themes and the meanings, the "great" mythology: the two maintain intimate relations, speak the same language, it is true with multiple variants, but with the same great heart. The main objective of the works gathered in this volume is to highlight this ancestral memory and to build bridges between the two continents of "scholarly" and "popular" culture, wrongly separated by an invisible frontier that has long been considered impervious. But a "learned" theme almost always has its "popular" counterpart, and vice versa...
Si la « grande » mythologie, l'olympienne en particulier, est depuis toujours l'enfant chéri des savants et la muse des artistes, il n'en va pas de même avec la « petite » mythologie (dénomination attribuée aux frères Grimm) : volontiers reléguée dans la chambre des nourrices et la sphère des enfants, un consensus quasi ­universel la considère comme un « ­sous-genre » alors qu'en réalité, elle est dépositaire d'une mémoire mythique et poétique aussi précieuse que sa grande sœur classique. Les traditions orales, véhiculées en particulier par les contes, représentent un vivier inépuisable de motifs qui rejoignent bien souvent, par la structure, les thématiques et les signifiances, la « grande » mythologie : les deux entretiennent des relations intimes, parlent un même langage, il est vrai aux variantes multiples, mais au même grand cœur. L'objectif principal des travaux réunis dans ce volume est de porter non seulement à la lumière du jour toute cette mémoire ancestrale, mais d'établir des ponts entre les deux continents du « savant » et du « populaire », à tort séparés par une frontière invisible et longtemps considérée comme étanche : une thématique « savante » a presque toujours son pendant « populaire », et inversement.
Fichier principal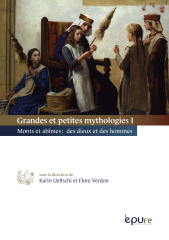 9782374961330_EPUMYTHO_01.pdf (4.61 Mo)
Télécharger le fichier
Origin : Explicit agreement for this submission