Progrès et perfectibilité : variations sur un thème
Since the modem period the notions of progress and perfectibility have been envisaged from two different standpoints. On the one hand is the conception developed by the philosophers who believe in the unlimited power of reason. On the other hand is that of the sceptics who doubt its power. After presenting these two views, I will address the question of which one is the best. Should we follow those who trust reason or those who don't ? In order to answer this question we must determine what is central for progress and perfectibility. Do they come along with a continuous development of knowledge ? Or do they pivot around a radical imperfection which may defeat reason and give rise to barbarism or decay ?
Après avoir présenté les deux manières de penser les notions de progrès et de perfectibilité qui se font jour depuis l'âge classique, soit à partir d'une raison indéfiniment positive, soit à partir d'une conception sceptique de la connaissance, nous nous demandons qui il faut suivre : ceux qui font confiance à la raison ou ceux qui s'en défient ? L'articulation du progrès et de la perfectibilité se fait-elle autour d'un développement continuel des connaissances ou d'une imperfection radicale qui peut conduire à une défaite de la raison au profit de la barbarie ou de la corruption ?
Fichier principal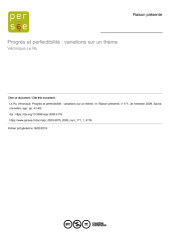 raipr_0033-9075_2009_num_171_1_4176-1.pdf (692.34 Ko)
Télécharger le fichier
Origin : Publisher files allowed on an open archive