Diplomates en uniforme : l'outil militaire dans la diplomatie française au Brésil (1956-1974)
During the military dictatorship of 1968-1974, France sent its top intelligence specialists to Brazil. Coming from a variety of political backgrounds, these men ensured the transfer of the French army's colonial doctrines to the Brazilian army and created opportunities for the French industries that were reconstituted in the aftermath of the Second World War. In less than twenty years, the French army completely reshaped the Brazilian military's perception of its role. The technology exported was not just material, but also political. It enabled the construction of a new military system, based on the principle of anti-subversive warfare, the action of intelligence services and the hegemony of industrial groups linked to armaments. As a result, France made a significant contribution to the strategic autonomy of the Brazilian army, providing a significant alternative to the presence of the United States. Using a large number of archive documents, this book seeks to understand how these special links between the French and Brazilian militaries were built.
Durant les années de plomb (1968-1974), la France a envoyé ses plus grands spécialistes du renseignement au Brésil. Issus d'horizons politiques divers, ces hommes ont assuré le transfert des doctrines coloniales de l'armée française vers l'armée brésilienne et ont créé des débouchés pour les industries françaises reconstituées dans l'après Seconde Guerre mondiale. En moins de vingt ans, l'armée française a entièrement remodelé la perception que les militaires brésiliens avaient de leur rôle. La technologie exportée n'était pas uniquement matérielle, mais aussi politique. Elle a permis la construction d'un nouvel édifice militaire, fondé sur le principe de la guerre anti­subversive, l'action des services de renseignement et l'hégémonie des groupes industriels liés à l'armement. La France a ainsi largement contribué à l'autonomie stratégique de l'armée brésilienne, constituant un contrepoids certain à la présence des États-Unis. À partir de nombreux documents d'archives, cet ouvrage a pour ambition de comprendre la manière dont ces liens particuliers entre militaires français et brésiliens ont été construits.
Fichier principal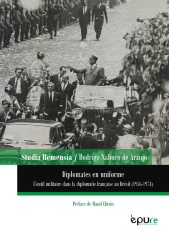 9782374961798_EPURSTUD_08.pdf (2.91 Mo)
Télécharger le fichier
Origin : Explicit agreement for this submission
Licence : CC BY NC - Attribution - NonCommercial