Les prépositions ensemblistes et la question de leur emploi spatial
The purpose of this article is to show, first of all, the place of parmi in a specific micro-system of prepositions (which we call 'ensemblistes', i.e. "linking, adjoining") when used spatially : parmi refers to the dissociation of the elements belonging to the localizing set and the partial, yet random, occupation of the space delimited by those elements ; entre shows the ordering of the elements belonging to the set and the saturation of all the spaces created by a demultiplied dual opposition ; the combination d'entre indicates that there has been a shift from the interior to the exterior of the site. The paper also supports the idea that the localizing site designated by the SP introduced by an adjoining preposition is not multiple, as it has been stated before, but unique : the site is, actually, a collection of Ns, which are spatially represented according to the predicates specific to parmi, entre and d'entre. Last but not least, this study shows that the imprecise localizing offered by parmi corresponds to various configurations consistent with à là, quelque part, çà et là, par ci par là, à travers, au milieu de and, ultimately, with dans cet environnement. The study of space representation with the help of parmi les N brings forth the idea that parmi signifies either the idea of partial and indeterminate occupation, or the one of exploring route or routes traced in a localizing set. In conclusion, parmi signals in several ways the dissociation and internal exploration of a set whose borders are negligible.
Le but de cet article est de montrer, dans un premier temps, la place de parmi dans le microsystème des prépositions ensemblistes en emploi spatial : parmi signifie la dissociation des éléments de l'ensemble localisateur et l'occupation partielle et aléatoire des espaces que ces éléments délimitent entre eux ; entre exprime l'ordonnancement des éléments de l'ensemble et la saturation de tous les espaces créés par des oppositions duelles démultipliées ; la préposition composée d'entre indique le déplacement de la cible de l'intérieur vers l'extérieur de l'ensemble-site. On défend aussi l'idée que le site localisateur désigné par le SP introduit par une préposition ensembliste n'est pas multiple, comme cela a pu être affirmé, mais unique : le site, c'est la collection les N, que l'on se représente spatialement selon les prédications spécifiques à parmi, entre ou d'entre. Enfin, cette étude montre que l'imprécision localisatrice de parmi est la même que celle des diverses configurations correspondant à là, quelque part, çà et là, par ci par là, à travers, au milieu de et, enfin, dans cet environnement. L'étude de la représentation de l'espace avec parmi les N conduit à l'idée que parmi signifie soit l'idée d'occupation partielle indéterminée, soit celle de trajet ou de réseau de trajets exploratoires, frayés dans un ensemble localisateur. Parmi signifie donc de multiples manières la dissociation et l'exploration interne d'un ensemble à frontières négligeables.
Fichier principal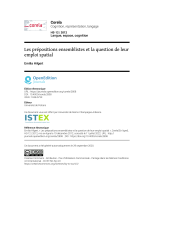 corela_2012_Hilgert.pdf (266.47 Ko)
Télécharger le fichier
Origin : Publisher files allowed on an open archive