Aidôs. Ce qu'Homère apprend au philosophe contemporain
What Homer Teaches to the Contemporary Philosopher. In Homer, aidôs cannot be translated exactly, because it oscillates between conflicting emotions (courage and fear). Then which mechanism prevents this heterogeneity from diluting ? Explanations have been proposed but it has been objected that aidôs resists beeing theorized and Homer ssems to gives a rather problematic picture of aidôs, going so far as suggesting that aidôs has a power of self-refuting, what makes it an equivalent of consciousness. Aidôs engages trust and faith in a way different from oath. It is a performative which differs from the performative you find in oath which Homer shows to be deceptive. While oath tends to exercise some control, aidôs proves itself capable of generating trust because it is disinterested. The Homeric aidôs opens the way to a culture of scruple that challenges the contemporary philosopher.
Chez Homère, le mot aidôs est intraduisible parce que l'aidôs oscille entre les émotions parfois contraires comme le courage et la crainte. Quel mécanisme empêche néanmoins cette hétérogénéité de se diluer ? Des explications ont été proposées mais on a objecté que l'aidôs ne se laisse pas théoriser et il semble qu'Homère se soit plu à mettre en scène une problématisation de l'aidôs, allant parfois jusqu'à suggérer une puissance auto-réfutative et inassignable qui en fait l'équivalent de la conscience. L'aidôs concerne la confiance mais d'une manière essentiellement distincte de celle du serment. Alors que le serment tend à l'exercice d'une emprise (à l'opérativité souvent illusoire), l'aidôs se montre capable de fonder une confiance parce qu'elle est désintéressée. L'aidôs homérique ouvre au philosophe contemporain la voie inédite d'une culture du scrupule.
Fichier principal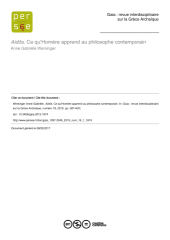 Gaia_2015_num_18_1_1674_Wersinger.pdf (233.17 Ko)
Télécharger le fichier
Origin : Publisher files allowed on an open archive