Metaphor understanding in school-aged children: from good-enough to very good understanding?
La compréhension des métaphores chez les enfants d'âge scolaire : d'une compréhension suffisamment bonne à une très bonne compréhension ?
Metaphors have always been a privileged object of study for pragmatics. However, how and when they are understood by children remains a matter of debate. While certain authors have shown that children understand metaphor as soon as 3 or 4 years (Pouscoulous & Tomasello, 2020), others have shown a later understanding, around 8 years of age (Deckert et al., 2019). We propose to explain this divergence by distinguishing several levels of metaphors understanding. Therefore, understanding could be neither correct or incorrect: some understanding could be correct "enough" to ensure the conversational flow, while being incomplete and imprecise. This proposal is in line with the fact that adults often process language globally which allowed them to build "good enough" understanding (Ferreira & Patson, 2007). We defined 3 types of understanding of metaphor: 1. A very good understanding should enable the identification of a 'precise' meaning of the metaphor, which involves identifying the semantic feature of the vehicle transferred to the topic. For example, in the metaphor 'a butterfly is a rainbow,' it precisely implies that butterflies are very colorful. 2. A good enough understanding should allow for grasping the 'global' meaning of the metaphor, aligned with the broad intent of the speaker and the context of the utterance, without necessarily pinpointing the specific semantic feature of the vehicle transferred to the topic. 3. A poor understanding would fail to capture both the precise and the global meaning of the metaphor. We hypothesized that a good enough understanding could be observed early on (around 5 years old), while a very good understanding would emerge later (around 8 years old), providing older children and adults with a broader range of levels of understanding.
Fichier principal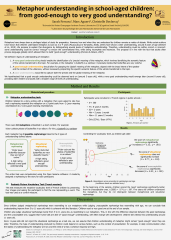 Ferrara, Aguert and Declercq - Metaphor understanding.pdf (761.23 Ko)
Télécharger le fichier
Origin : Files produced by the author(s)